Give the cozy gift of warmth this holiday season and donate a new pair of pyjamas to those in need!

Dr. Janelle Bohémier has a family tradition at Christmas; each year on Christmas Eve, everyone opens one gift. That gift is a pair of new pyjamas. Those pyjamas symbolize the love and comfort of home and family; the safety and warmth of time spent with a roof over your head, surrounded by those closest to you. Main St. Chiropractic wants everyone to experience that feeling of comfort and warmth, being wrapped in the kindness of others.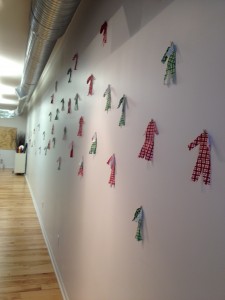 Every year, Main St. Chiropractic (in partnership with Lower Mainland Christmas Bureau) has been collecting donations of new kids pyjamas, with the Lower Mainland Christmas Bureau distributing the pyjamas to those in need.
"How wonderful it is that nobody need wait a single moment before beginning to improve the world." – Anne Frank
---
2013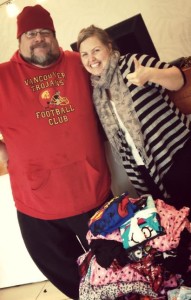 102 pjs! Chris from the Lower Mainland Christmas Bureau was ecstatic to pick up this load of warmth and comfort for all the kids! Thank you to all our amazing patients for another successful pyjama drive!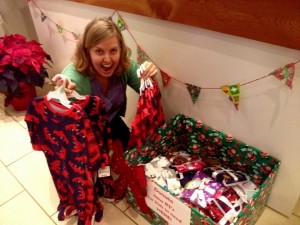 Thanks to your generosity, in just one week we've brought a warmer Christmas to 30 children!! With your continued support, we can help more children than ever before!!!!!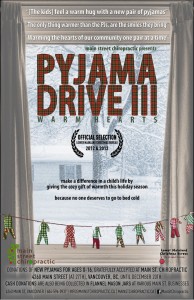 The kickoff of our 3rd Annual Pyjama Drive has begun! You can help wrap a child in warmth and love this holiday season by bringing in a pair of new pjs to the office!
From now until December 20th, we will be collecting new pjs for the Lower Mainland Christmas Bureau. You can also help us meet our goal by tossing in some extra change whenever you see a pyjama jar at a local Main Street business! The 3rd way to help is through our account with GoFundMe.com. Easily donate whatever amount you wish, all monetary donations will be used to purchase new pjs!
Together we can truly make an impact in the lives of the ones who need it most in our community! Thank you!
---
2012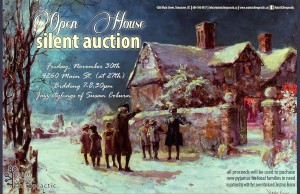 We will also be accepting monetary donations, of which 100% will be used to purchase new pyjamas.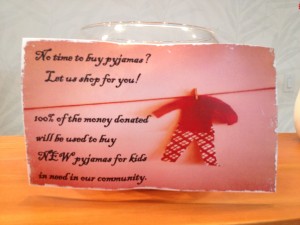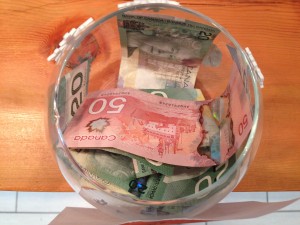 100% of the money collected is used to purchase pyjamas for kids in our community!!
Please invite your friends and family to help us surpass our goal of collecting 500 pyjamas!
To contact Main St. Chiropractic directly please call 604.569.0937, email info@mainstchiropractic.ca or visit our website www.mainstchiropractic.ca.
---
2011